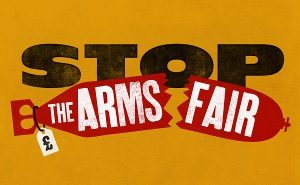 On Wednesday 6th September, Trident Ploughshares, a group committed to the non-violent disarmament of the UK's nuclear weapons will, along with CND groups, be protesting at the ExCeL Centre in the Docklands, ahead of the Defence & Security Equipment International (DSEI), the world's largest arms trade fair, 12-15th September. We've got some colourful entertainment— including a Peace Garden, a Mad Hatter's Tea-Party, mock Trident missile and even a Welsh choir.
TP's action is one of many being organised by a variety of groups co-ordinated by the Stop the Arms Fair that will aim to stop weapons reaching the ExCeL Centre in Docklands from both entrance roads, before the Arms Fair begins. TP's action will highlight the involvement of the world's biggest arms manufacturers in production, operation and maintenance of Britain's nuclear weapons, and the disproportionate influence this gives them over Government policy, and the ability to lobby the Government to promote their military products abroad. BAE Systems, Lockheed Martin, Babcock, Rolls Royce and Thales have, between them, had hundreds of meetings with the UK Government, which in turn has promoted their products to some of the world's most oppressive regimes.
Angie Zelter of Trident Ploughshares said: "Our tax payers money is being used to arm those involved in wars and repression, many of the arms dealers deal in illegal weapons of mass destruction and are implicated in nuclear weapons and we consider that part of an ongoing conspiracy to commit a war crime".
Trident Ploughshares will be at ExCeL West entrance, Western Gateway, London E16 from 10.00 on Weds 6th September. Nearest station DLR Royal Victoria (NB. Custom House stn currently closed)
On arrival, please ask for Vicky 07816972349