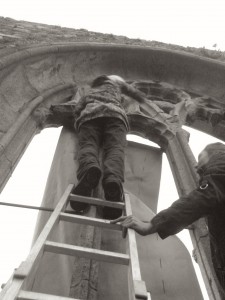 In response to various reactions to our protest at Charles Church, we, the Tamarians, would like to say a few words to explain:
Many of the Herald's commentators regarded the action as 'disgusting' and 'disgraceful', and it has been said that 'we shot ourselves in the foot'. The latter is very unlikely to happen, as we do not endorse the use of weapons.
We were all conscious that site is a memorial site and many are sensitive to its significance and for this reason we chose it. We think that the purpose of a war memorial is to remind people of war and to learn from our history in order to make a better world. It is our concern to prevent any wilful or accidental nuclear exposure and to recognise the inhumanity of nuclear weapons. In the current election debate so far, only one local party spoke up against the continuation of the Trident nuclear submarine refit in Devonport.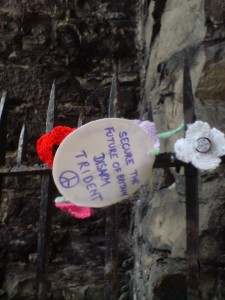 In preparation for this action we considered many aspects to avoid anything that could have been violating the site's sacredness.  When we arrived, we were shocked to find that contractors had dug long furrows in the grass inside the church. We later learned that they are for a new lighting system, and this end probably justifies the means, rather than our base motives of highlighting the dangers and injustices of warfare.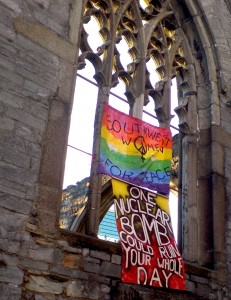 We took great care in the hanging of the banners, at all times we took great care to avert any damage to the church, but all this diligence was cast aside by a group of council workers who forcefully ripped the banners down at 1 pm before the police had any chance to negotiate with us.
We hope the public will understand the genuine concern for misspent billions, the dangers and injustice in a weapon that is inhumane and the hopes we have that people will think about alternatives available for a better quality of life without Trident.