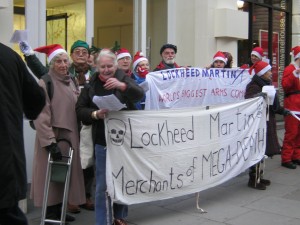 Nuclear arms company receives Christmas peace carols and card.
 On Tuesday, 17th December 2013 from 12.40 to 2.30pm the Muriel Lester's Trident Ploughshares affinity group with supporters of Campaign Against the Arms Trade, Women in Black and Raised Voices sang suitably amended carols and peace songs outside Lockheed Martin's(1) London headquarters in Cunard House at 15 Lower Regent St. SW.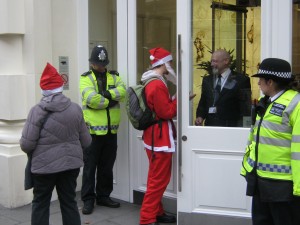 The carols included
While shepherds watched their flocks by night

While shepherds watched their flocks by night, all seated on the ground
A Lockheed Martin bomb fell down. Then bodies lay around.
The shepherds' kin cry for revenge. A shepherd's orphan wails,
But spirals of revenge are good for Lockheed Martin's sales.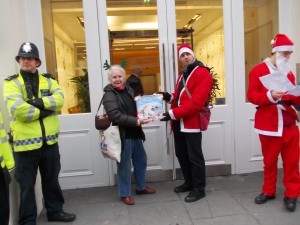 The Chairman-President was asked "Is this something we must hide?"
"It won't affect our shares at all." He soothingly replied.
"Fear not" said he for mighty dread had seized their guilty mind.
"The shepherds were Al Qaeda or something of that kind."
Aggressors always can rely on products from Lockheed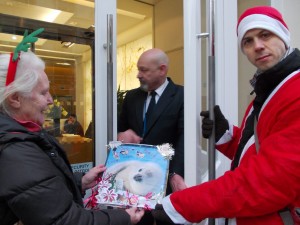 "Hit to kill every time, this weapon's guaranteed."
Good people everywhere demand that arms making must cease!
Goodwill to all of humankind and to the Earth be peace.
Leaflets were given out to numerous passers by about the major role the company plays in manufacturing the illegal Trident nuclear missiles and developing their replacement. About 23 signed the large Christmas card which was handed in just before their final serenade.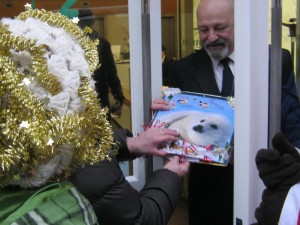 The card wished them a very Happy Christmas and requested that they use their skills for peace on earth and stop developing and producing Nuclear Weapons.  It read

"Dear Lockheed Martin, employees and bosses.
We wish you a merry Christmas and a happy New Year.
We invite you to learn from the good not the bad, to follow the best of yourself not the worst.
It`s never too late to change, use your skills to develop a more peaceful world in 2014, we`ll be back to cheer you on!"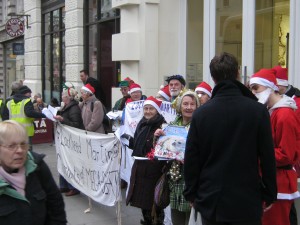 It also had  quotations from Nelson Mandela, "We owe our children, the most vulnerable citizens in any society a life free from violence and fear" and Nelson 's  Call for the Elimination of Nuclear Weapons
United Nations, September 21, 1998.

"President Mandela, in an impassioned speech to the United Nations General Assembly  …..  , called on the nuclear-weapon States to make a firm commitment to eliminating nuclear weapons and on the global community to eradicate poverty. Mandela recalled the very first resolution of the United Nations, adopted in January 1946, which called for "the elimination from national armaments of atomic weapons and all other major weapons adaptable to mass destruction," and lamented the fact that "we still do not have concrete and generally accepted proposals supported by a clear commitment by the nuclear-weapon States to the speedy, final and total elimination of nuclear weapons and nuclear weapons capabilities."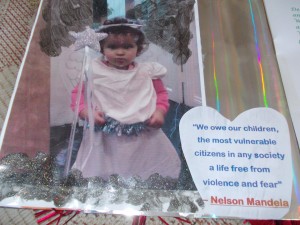 At  the end of their carol serenade the peace protestors wished police, security and workers going in an out of Cunard House a truly peaceful Christmas and promised to be back again.
Lockheed Martin is one of the biggest arms manufacturers in the world. It is lead company of the Atomic Weapons Establishment in Berkshire, where Trident nuclear missiles are made. They have a £5.3 billion UK Government contract  to design & build a new generation of nuclear weapons, to succeed Trident nuclear warheads. This is in breach of the Nuclear Non Proliferation Treaty.