Friday 14th July,
Another day of sunshine and showers, and showers, but that didn't stop our changing population from getting up to all sorts, inside and outside the camp.
The vigil at the gates happened first thing, as it has each morning, with Rowland from Bristol giving his popular nuke-facts flyer to the Sergeant as well as the officers, when they very sweetly went to get her, so struck were they, by the overkill power of the Trident submarines.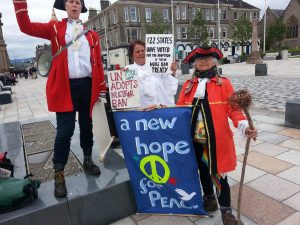 The Town Criers emerged from the medieval cliche to cause the traditional mix of chin-stroking curiosity, cautious interest and wide-berth ignoring, on the streets of Helensburgh. Janet had never worn the gear before, but claims it was her idea, so it was very exciting for her, alongside experienced criers Michal and Dagmar. Many fliers were distributed and conversations had.
The Finnish contingent drove away from the camp after their 3 intense days of camping and action, picking their arrested member up from the court at Dunbarton at 5pm, once Reading court had faxed Dunbarton to confirm that they didn't want to pursue the 'hold' they had on him, for his last UK arrest at A.W.E Burghfield. Three and a half hours earlier, after a 3-minute hearing for both of them, Peter Anderson from Wales was also released.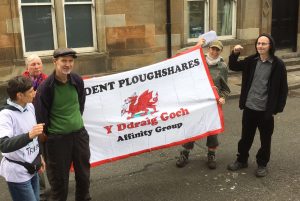 It must have been rather dazzling, the first thing in his face being the Welsh affinity group flag, born by a mighty choir from three nations. He seemed cheerful and cool though. His Finnish co-arrestee Esa Noresvuo was even more cheerful, despite being met by a much smaller choir, having been messed around all day.
Back at the camp it was stir fry and noodles, lots of paper cranes, a walk over the hill and further messing about with canoes in the Loch. As the light dims, we have films and hot chocolate queued up, and a local chap has donated more good dry firewood, so we won't pull any punches there either.
All is well.
All best wishes from guest-reporter, Jed at the camp.