Plymouth on Monday 12th May: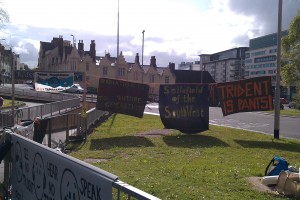 Around 25 people gathered outside the Charles Cross police station in Plymouth. The local Trident Ploughshares affinity group: the Tamarians, were there, together with activists from round the country, to report the crime of Trident.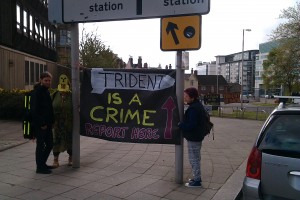 This is a police station familiar to many of us, as crime preventing activists have been held there after actions at the Devonport Naval base where we are 'processed' for the 'crime' of trying to stop the dirty re-fueling of the Trident submarines that are causing radiation leaks in the city of Plymouth.
It took 2 hours for 18 people to go and report the serious crimes of Trident.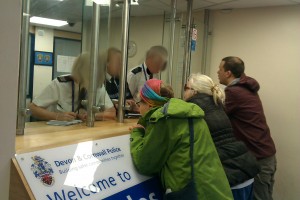 3 police officers dealt with the reports very quickly at the front desk but were not willing to take down many details or any evidence. We were all given the same crime number – 788.
The senior officer present was not sure how to deal with this unusual crime report, whether to send it to the Ministry of Defence or the Naval authorities to deal with. It was suggested that he should deal with it as he deals with other crime reports – investigate it impartially and seriously, and certainly not ask for advice from the alleged perpetrators of the crime!
Later he said he would be contacting the Thames Valley Police to see how they were dealing with it.
The staff at the police front desk took down our details and said that they would contact us and ask for more evidence at a later stage. It will be interesting to find out how they deal with serious crimes being committed by government officials, Navy personnel and employees of Babcock.
Whilst the reporting went on inside the police station, there were musicians playing outside, as the activists gave out leeks and leaflets. The leaflets explained about the radioactive leaks, and the lack of workable evacuation plans, and also had a recipe for leek soup on the back.
There was a surprising amount of support expressed for our action in this very historic naval town.