Five people from the Trident Ploughshares international nuclear disarmament camp were arrested this morning after they blocked the road leading to the Coulport nuclear weapons depot starting at 7am.
The group of campaigners included two Spaniards and three UK citizens. By 9:30am MOD police had cut the protesters out of the heavy concrete and metal tubes with which they had locked themselves together.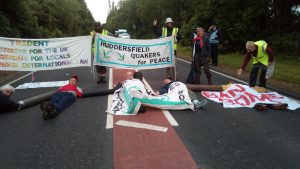 The group included veteran disarmament campaigners Brian Quail, 79, a retired Latin teacher and a member of the Scottish Campaign for Nuclear Disarmament and Angie Zelter, 66, a Peace and Environment Campaigner from Knighton in Wales, community worker Sam Donaldson, 29, a Community Worker from Hull, Almudena Izquierdo Olmo, 60, from Madrid, a worker at the Politecnical University activist from the group Women in Black and Juan Carlos Navarro Diaz, 46, a university librarian from the Canary Islands activist from Alternativa Antimilitarista – MOC.
Angie Zelter said: "British nuclear weapons are illegal and now there is a United Nations Ban Treaty. It is imperative that all of us get involved in nonviolent nuclear disarmament as our government is engaged in state terrorism. [1]
With this action, on behalf of the eleven Spanish activists taking part in the camp, Almudena Izquierdo, from the state of Spain said: "We demand our government, as part of NATO, sign and ratify the UN Nuclear Weapons Ban Treaty in order to prohibit nuclear weapons from entering foreign military bases and ports in Spain."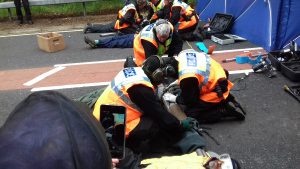 The road remained blocked for a full two and a half hours. Traffic was diverted so that no local people were prevented from travel on public roads.
The action was part of the Trident Ploughshares nuclear disarmament international camp taking place this week near Coulport. Other nonviolent direct actions are expected to follow. [2][3]
ENDS
Contacts:
Trident Ploughshares Press contact: 07393 482499
Additional TP media contact: David Mackenzie: 07876 593016
Notes for Editors:
A United Nations conference of 130 countries passed a Treaty to ban nuclear weapons on Friday 7 July 2017 in New York. The Ban Treaty will be open for signatory on 20 September and will come into force 90 days after being signed by fifty countries. It has the support of the majority of countries. The ban will prohibit possession, use, threat of use and assistance in the deployment or production of nuclear weapons. More details on the Ban Treaty are available from: icanw.org or nuclearban.scot or reachingcriticalwill.org/
Trident Ploughshares is the campaign to disarm the UK nuclear weapons system through nonviolent direction. More information is available at: tridentploughshares.org
Coulport International Disarmament camp is taking place from 8 – 18 July. Protesters have travelled from across the UK and from as far away as Finaland to take part in the
Full set of photos available at http://tridentploughshares.org/tp-disarmament-camp-images-11th-july-2017/
Additional High Resolution photos available upon request
Spanish Translation to follow