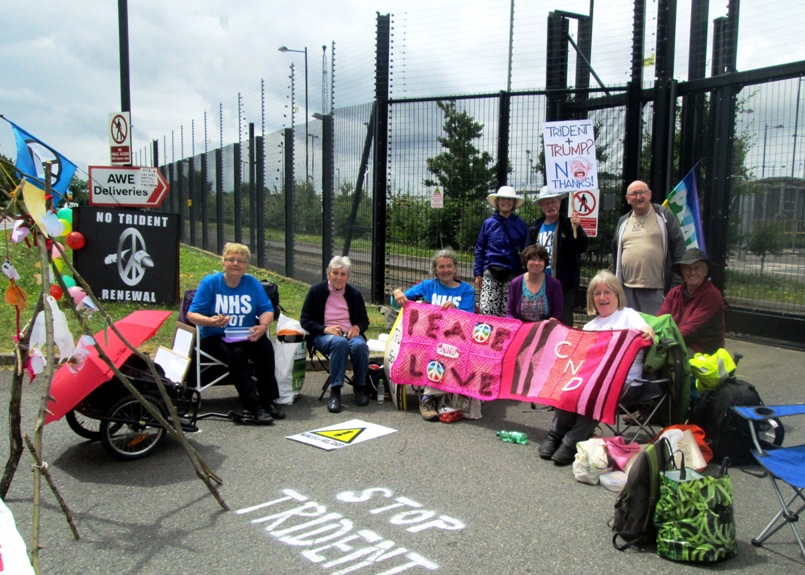 On Tuesday 14th June Campaign for Nuclear Disarmament Peace Groups from Oxford, Faringdon, Reading, Salisbury, Southampton and Abingdon gathered outside the gates of the Atomic Weapons Establishment in Burghfield near Reading, to demonstrate against the renewal of Trident, Britain?s submarine-based nuclear weapons system.
This year, our Government must decide on whether to spend at least £205bn on the renewal of Trident. Under international treaties, such as the Nuclear Non-Proliferation Treaty, Britain is obliged to move to disarm its nuclear capability. That means not renewing Trident!
Some say that through Trident we can protect our country. If nuclear weapons act as a deterrent, we?'d have fewer wars, but the opposite has happened. Since the first nuclear weapon was used in 1945, there have been more wars than ever before. And nuclear weapons make us less safe, as the main security threats we face today are terrorism, cyber-attacks, pandemics and climate change. These are our priorities, not the backwards stance of keeping Trident. £205bn could be diverted from the nuclear programme to defend ourselves against such perils. But the cost of Trident being diverted to saner projects like the NHS and Social Care isn?t the only argument. As demonstrators held their banners high in the sight of employees of AWE Burghfield, an important question was asked – where will these people work if AWE Burghfield is closed? If the manufacture of Trident doesn?t keep them employed what will happen to them? Answers readily came to the fore: if AWE Burghfield is decommissioned, highly skilled nuclear scientists would be required, over many years, to dismantle the site. Engineers, builders, administration staff would be needed to close the operation, taking many to retirement age or to be retrained by prominent training schemes within the establishment or through external projects.
Time is running out to influence our Government. Britain must decide this year on whether to waste £205bn (and rising) on renewing Trident, and we must stop them from making the mistake of using such monumental resources in this way.
Faringdon Peace Group 15 June 2016
www.faringdonpeacegroup.org.uk
Sand Cooper
Faringdon Peace Group