Press Release: 12th January 2018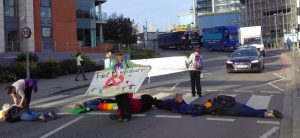 In spite of guilty verdicts today at Stratford Magistrates Court there was commendation from the judges for protesters who blocked the entrances to the ExCel Centre on 6th September last year to disrupt the delivery of tanks and other military gear to the DSEI Arms Fair.
The protesters are the first group 1to be tried, on a charge of obstructing the highway, for the events of 6th September, which was labelled No To Nuclear Day so as to highlight the involvement in the manufacture of nuclear weapons by many exhibitors2 at the Fair. Both entrances to the EXCel site were blocked causing considerable disruption to preparations for the fair. The protest was one a series of days of action co-ordinated by the Campaign Against The Arms Trade (CAAT).
Angie Zelter, from Knighton in Wales, Margaret Bremner from Edinburgh, Barbara Cookson from Liverpool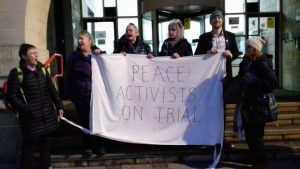 and Genny Scherer from London were given a conditional discharge with £180 court costs and a £15 victim support surcharge. Randall Harford from Bristol was additionally fined £100 for breaching the terms of a previous conditional discharge. The district judge said that he was obliged to find the protesters guilty since they had obstructed the highway but he commended them for their passion and for acting out of concern for the public interest.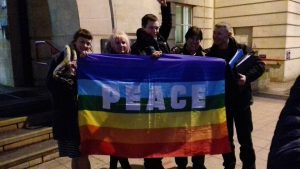 In an adjacent courtroom a group from Yorkshire CND, Matt Fawcett, Bryony Moore, Brigid-Mary Oates, Guillame Chome were all found guilty of obstructing the highway and given a conditional discharge with court costs of £180 and a victim surcharge of £20. Here, again, the district judge recognised that the protesters were peaceful, were responding to an issue of public concern and were acting with a good conscience.
Angie Zelter said:
"In giving us such a lenient sentence and by acknowledging that we were acting as good citizens both judges have shown sympathy for our stance. Perhaps they too recognise that the real criminals are those who make a squalid profit out of conflict and preparations for nuclear war.
I feel that our protest in September and the today's court appearance have been very effective is raising public awareness and concern about the blatant trade in the tools of death. The lawyers told us that the case has had a big impact on themselves and their families. We must never fall into the trap of thinking that peaceful direct action is a waste of time."
1 Subsequent trials (related to 6th September 2017) on 17th January, 23rd February and 7th March.
2 Leading nuclear weapons manufacturers exhibiting at DSEI 2017 include BAE Systems, Rolls Royce, Babcock International, Thales, Lockheed Martin.