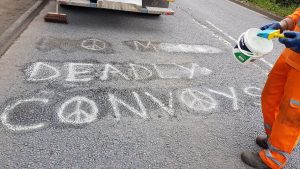 Anti-Nuke Activist Convicted for Road-Painting  

A woman who painted the words 'Stop the Deadly Convoys' on a road near AWE Burghfield, has today been found guilty of unauthorised road-painting, and going equipped for criminal damage.  Mary Millington, 68, a retired schoolteacher from Glasgow, was given a two-year conditional discharge, and was ordered to pay £200 in compensation to West Berkshire District Council.


Mary had pleaded not guilty to the two charges: painting a sign on the road without permission (Highways Act 1980), and going equipped to commit criminal damage (Criminal Damage Act 1971).  She had been arrested on 28 July 2017 shortly after spray painting the slogan, along with peace symbols, on Reading Road, Burghfield.  Upon arrest, police had seized from her two cans of spray paint and a pair of bolt croppers.
Mary, who represented herself, admitted painting the slogan, along with peace symbols, on Reading Road, Burghfield.  She also admitted that she had planned to use the pair of bolt-croppers in her possession to damage the fence at AWE Burghfield.  However, she argued that she had both reasonable and legal excuse.  She felt the need to draw attention to the dangerous transport of nuclear warheads across the UK, and to try to prevent a greater crime, namely the use of nuclear weapons.
The magistrates ruled that Mary did not have either reasonable or lawful excuse, and found her guilty of both charges.  They gave Mary a conditional discharge and ordered her to pay £200 to compensate West Berkshire District Council for the cost of removing the spray paint, although they did not make an order for costs.  They also ordered the forfeiture of the spray paint and bolt croppers.
Mary said "The warheads are regularly transported by road between Burghfield and Coulport in Scotland.  Local authorities are not informed when the convoys are to pass through, even though they pose considerable danger to the communities through which they pass.  I was seeking to draw attention to this danger through my actions."