Two Trident Ploughshares campaigners who yesterday took part in a blockade of the nuclear warhead store at Coulport on Loch Long have been remanded in custody after refusing to accept special bail conditions imposed by a Justice of the Peace at a hearing today in Dumbarton Sheriff Court.
Brian Quail (79) a retired teacher from Glasgow, and Angie Zelter (66), a peace and environmental campaigner from Knighton in Wales, were appearing in court with three other protesters after being held in police cells overnight.
The Procurator Fiscal asked the JP to adhere to the special bail condition which barred all five accused from going any nearer to the nuclear weapon bases at Coulport and Faslane than 100 metres , citing the potential impact on the public. Angie argued that she had no intention of lying in the roadway again but had every right to protest at the bases.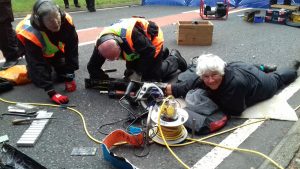 She told the court that she had had no conviction in the last ten years and that she had reported the UK government to the police for the crime of deploying a weapon of mass destruction, as well as the Prime Minister for her Commons admission that she would give the order the fire a weapon of mass murder. Trident was a breach of international law and the adoption of the UN Nuclear Weapon Ban Treaty
just five days ago had further confirmed its illegal status.
Brian told the JP that at that very moment some young man on a UK nuclear weapon submarine was poised to unleash destruction. He could not understand why the crime of threatening to kill was not clearly outlawed by Scottish common law.
The JP accepted the Crown's argument about impact on the public and remanded both in custody until their trial on 3rd August on a charge of breach of the peace. At that trial they will be joined by Sam Donaldson (29), a community worker from Hull, Almudena Izquierdo Olmo from Madrid and Juan Carlos Navarro Diaz (46), a librarian from the Canary Islands. All three were released from custody after accepting the bail conditions.
A Trident Ploughshares spokesperson said:
"Scottish courts should not be jailing people for protesting peaceful against the active deployment of a hideous weapon system that clearly breaches the Geneva Convention, which no less than 122 countries worldwide want to prohibit and eliminate, and which is rejected by the overwhelming majority of Scottish parliamentarians both at Holyrood and Westminster. It just does not make any sense. The principled stand of Angie and Brian is a wake-up call to us all to join the majority world."
Send nice cards, post cards and letters of support to Angie and Brian while they are in. This really lifts their spirits.
Put their name, prison number and location, followed by the postal address
Angela Zelter
21/1 Peebles House
HMP & YOI Cornton Vale
Cornton Vale
Stirling
FK9 5NU
Brian Quail
H M Prison Low Moss
Crosshill Road
Bishopbriggs
Glasgow
G64 2QB
The week of Trident Ploughshares disruptive action against the nuclear weapon bases continues until Sunday.