Anti-Nuke Activist Convicted for Obstructing Traffic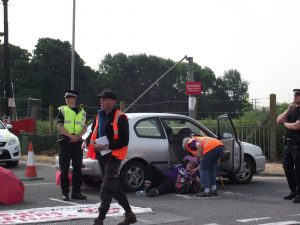 A woman who blocked a key entrance to AWE Burghfield for more than two

 

hours, in protest at the UK's nuclear weapons system, has today been found guilty of obstructing the highway.  Helen Swanston, 42, a milliner from Cromer, North Norfolk, was given a 12-month conditional discharge, and was ordered to pay £200 in costs.
Helen had pleaded not guilty to the charge, which followed a protest on 7 June 2016 in which she lay across the North Mearings entrance to the MOD site at Burghfield on 7 June, attached to other protesters through tubes secured inside a car to impede their removal. This obstruction

 

allegedly

 

prevented vehicular access to the site, where the nuclear warheads from Trident undergo heavy maintenance work, for more than two hours.
Helen admitted lying in the road, but argued that she had only intended to obstruct a private MOD road, and not a public highway.  She also used the

Prevention of Crime legal defence (Section 3 of the Criminal Law Act 1967) to argue that she was attempting

prevent a greater crime in the deployment of nuclear weapons, which would be contrary to international law. 
District Judge Khan acknowledged the sincerity of Helen's beliefs, but ruled that she had in fact obstructed a public highway, and dismissed her claim to have been acting to prevent a greater crime as he was not satisfied that there was an 'imminent' threat that the nuclear weapons were to be used.  He gave Helen a 12-month conditional discharge and ordered her to pay £200 in costs. 
Helen continues to call

on the Government to cancel the planned replacement of Trident and to reallocate the money to help people and services in desperate need of government funding.  She said: 

"These weapons could never be used legally. If Nuremberg Principles are to be more than victors' justice, then it is my duty as a citizen to prevent these war crimes. There are seven food banks in the Reading area including one at Burghfield and Mortimer; in these times of austerity it is obscene that the government wants to spend £205 billion on weapons it can never legally use. We signed the Non-proliferation Treaty decades ago, it's time we started to work for peace. Then states like North Korea and Iran wouldn't be so desperate to get these weapons, which if used would alter our environment for generations."
Helen was represented by solicitor Mike Schwarz of Bindmans LLP, and barrister Jo Buckley of Matrix Chambers.

FOR FURTHER INFORMATION:
Contact Chris Bluemel on 07538 328767 or chrisbluemel@yahoo.co.uk
NOTES
The trial is the first in a series of three cases brought by the CPS to be heard by DJ Khan. All the cases arise out of the June Month of Action against Trident, coordinated by Trident Ploughshares. The month saw a distinct increase in the effectiveness of the blockades as concerned groups from many different countries united to act for peace and to uphold international law on Nuclear Non-Proliferation. A diverse range of campaigners staged a series of protests calling for the Government not to replace Trident. On one occasion the construction gate to the site was blocked continuously for 12 days. Construction work was already taking place at AWE Burghfield in preparation for the construction of new nuclear warheads, even the Parliament had not officially made a decision at this point.  The latest independent estimates suggest that the full lifetime cost of a new nuclear weapons system could exceed £200 billion.