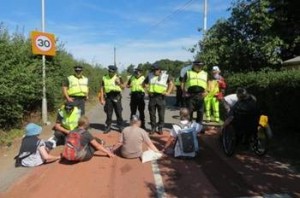 Charges were dropped to against five women, members of the Muriel Lester's  Trident Ploughshares affinity group, who were appearing  on on trial at Reading Magistrates Court for non-violently blocking the private road to the Atomic Weapons Establishment Burghfield on Monday 2ndSeptember 2013.
Judge Vickers awarded costs to all five after Jean Taylor, who is wheel chair dependant, said " We wanted to oppose what is going on at AWE Burghfield, the maintenance of Trident nuclear warheads and the development of new weapons of mass destruction.  AWE Burghfield is where the nuclear warheads for Trident missiles are maintained and work on developing  replacement warheads is undertaken."
Mr Gotch on behalf of Zelda Jeffers had provided the Prosecution with legal definitions of "highway" weeks earlier. Photgraphs showing that the five  were on the Mearings, a private road owned by the MoD were sent on 3rd January. He had forwarded an e-mail from the Local Authority saying they had not adopted the Mearings as a highway.The CPS solicitor sought an adjournment to check whether it was a highway.
The action was part of the big blockade by Trident Ploughshares, part of the ongoing Action AWE campaign to stop the building of nuclear weapons of mass destruction and use the skills of the workers at AWE Burghfield  and  Aldermaston to clean up and get rid of nuclear weapons and develop a  just, green economy.
The five, Lyn Bliss, Zelda Jeffers, Myra  Garret, Ann Kobayashi and  Jean Taylor, ranging in age from 70 – 83 were charged with "wilfully obstructing the highway without lawfull authority or excuse…"
Judge Vickers heard all the fives reasons for not wanting a further court hearing. They gave their reasons for blocking the Mearings.
The possibility of a new charge under the MoD bye laws remains open. But the permission of th court would be needed.