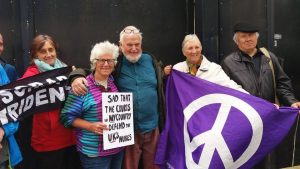 Angie and Brian Free; Dramatic Reversal by Procurator Fiscal
Following two weeks of incarceration nuclear disarmament campaigners Angie Zelter and Brian Quail are free after the Procurator Fiscal dramatically reversed course and dropped the request for restrictive bail conditions without explanation.
The decision came at an intermediate hearing at Dumbarton JP Court today, 26 July.
The bail conditions had forbidden the pair, and three other protesters arrested with them, from even taking part in peaceful demonstrations within 100 metres of Coulport or Faslane naval base, homeport to Trident, the UK's nuclear weapons system.
Angie and Brian are now released on standard bail conditions and will appear for trial for Breach of the Peace on Oct 12th
According to Jane Tallents, a member of Trident Ploughshares and supporter of Zelter, "Today the PF has seen sense and dropped the demand for conditions that restricted Brian and Angie's fundamental right to protest. This is a small victory for peaceful protest on the long road to disarmament".