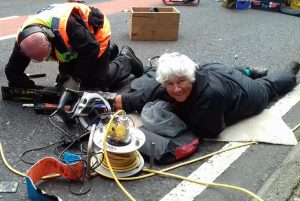 A 38 Degrees petition has gained more than 2,500 signatures calling for the release of two nuclear resisters who remain on remand in Scottish prisons after refusing restrictive bail conditions following their arrest for blocking the road to the Coulport nuclear weapons depot. The arrests took place during Trident Ploughshares' nuclear disarmament camp that ended on the 16th of July.
Seventy plus nuclear disarmament campaigners braved the rain and midgies on the West Coast of Scotland over ten days. Nine people were arrested for two blockades and numerous other actions challenged the UK government's continuing deployment of the Trident nuclear weapons system and its willingness to use them despite 122 nations agreeing a treaty at the United Nations on 7 July that will ban nuclear weapons.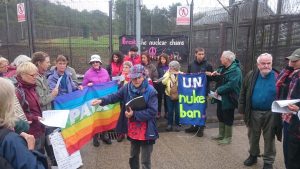 People from Sweden, Spain, Canary Islands, and France travelled to take part in the disarmament camp which saw daily vigils at the main gate of Coulport, singing of new sections of the Trident Oratorio at the North Gate of Faslane, the raising of a disarmament flag on the fence marking the sea boundary of Coulport, a Town Crier action announcing the Nuclear Ban treaty to the people of Helensburgh, vigils outside the Court in Dumbarton, and a group of activists breaching the MOD bylaws that prohibit free access to the Coulport hills. Disarment camps have been taking place at Coulport since 1998.
Angie Zelter is mounting an appeal of the court order to remand them for refusal to agree to bail conditions which would prevent them from taking part in otherwise lawful peaceful protests at the Faslane base or at Coulport.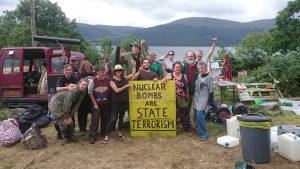 If the appeal succeeds she will be released from prison. If it falls she will appear in Court again Wednesday 26 of July for an intermediate hearing alongside Brian Quail. The petition has been reported by Scottish news paper The National. We urge readers to sign and Share the petition and to write to Angie and Brian. Details of how to write to them are here.