You are invited to join TP Tamarians in Plymouth for the weekend of May 10th, 11th and 12th 2014
You are welcome to arrive either on the Friday night or Saturday morning.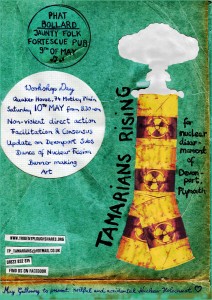 Friday night will be an evening of arriving. We will be hosting an evening of acoustic music from local jaunty folksters Phat Bollard in the Fortescue Hotel cellar, Mutley Plain, Plymouth . We are aiming also to have space for art and crafting activities at the Friends Meeting House, you may wish to bring yarn or crafting material if you wish.
Saturday 10th will be a day of useful and interesting  workshops. We are hoping that local people will also join us; the workshops offered are likely to include:
-Fast and Functional Facilitation
-Technical Tubing – practical info sharing and demonstration
-The Dance of Nuclear Physics – an embodied experience of the dangers of chain reaction
-NVDA refresher or intro, if and according to need.
-Info update on Devonport and subs
-Revisiting consensus – making it work for us
-Art and craft space, including gafferbannerdesign – banner-making without getting paint on the floor
-Techniques for creating effective working community in camps and actions
We are keen for the workshops to be useful and relevant to you – please let us know of any other workshops which you'd like to see on this list, or would like to consider offering yourself.
On Saturday evening there will be a chance to let our hair down to the rhythmic sounds of some of the more boisterous musicians of Plymouth in the cellar of the Fortescue Hotel, Mutley Plain.
There will be a Trident Ploughshares members meeting on Sunday morning
Sunday afternoon will give us a chance to relax, network and plan.
Monday offers the chance to get to know Plymouth, and do some sightseeing in the local area.
We will provide sleeping space and vegan food (cost donations welcome), please do let us know of any particular needs you have.
Please do let us know as soon as possible whether or not you will be able to join us. We will send out more practical details nearer the time.
Looking forward to seeing you,
TP Tamarians
tp_tamarians@hotmail.co.uk