TP activists Erica, Anne, Morag and Zelda held the South Mearings with the Welsh group for 8 hours at the ?#?BurghfieldLockdown? last Monday.  What is it like to blockade in a Non Violent Direct Action. Maybe some of you don't know and wonder. Zelda tells what it was like for her.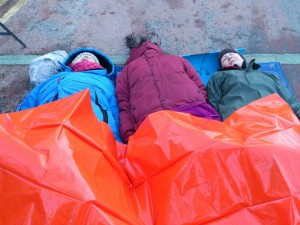 First I am convinced that nuclear weapons are unacceptable and that I must do what I can to try to stop their proliferation. Burghfield is where they are assembled this should be stopped. AAWE is organising a blockade (no mean task) I register and on the Sunday travel to Reading and make my way to the convergeance center. People are milling about some carrying out tasks some meeting friends, tea and snacks are available and food is being prepared. There is information on a board, I sign in. Gradually things become clearer, I attend a NVDA training, hear information on the legalities and practicalities. I meet colleagues and another group who are going where I am going and with whom I will "lock on" We have some equipment. We go to another venue, sleep in a church premises and get up at 4am.
There is bustle, excitement and anxiety. Will we be stopped before we get there? Will our plan work? Will it rain?
Off in a Minibus at 4.30 in the chilly dark, we are followed by the police. We arrive at the road junction, our part of the blockade, we jump out and sit across the road each concentrating on our part of the blockade getting settled and locking on, heart beating fast, hands trembling. The police do not attempt to stop us (they did at another place) Once we are attached to one another and the road is blocked, I calm down. The cold begins to seep through the plastic I am sitting on. Bit by bit our helpers get foam under us and blankets on top, more people arrive at 7. The Welsh singers sing and my spirits are raised.
Lying looking at the sky, at first the stars then as the sky lightens clouds scudding across or sun shining. A flock of jacdaws fly overnead, a skylark rises up singing over the choir, a red kite circles, I would never lie still and watch this otherwise a wonderful bonus.
There are down moments, too cold and uncomfortable. Times when we are giggling and sometimes just being quiet, time goes very slowly then it is nearly mid day. I get up and warm up others take my place. At 2 pm we decide to stop and have a joyfull circle, singing and dancing. Back to the convergence center for hot food and drinks. An evaluation and home.
So what is it like? A rollercoaster of feelings, physical and emotional, and an overall feeling that I was where I should have been doing what I should have done. Good.