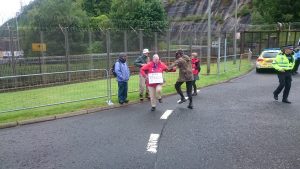 Early rising campers went to the Coulport main gate for a lively morning vigil as the workers arrived. Coulport is where the Trident warheads are stored in deep bunkers before being installed onto the missiles in a huge floating covered jetty on Loch Long.
Over 20 people then headed to Faslane, homeport of the Trident submarines, to sing the Trident Oratorio, led by composer Camilla Cancantata. The Oratorio was originally written in response to the Edinburgh High Court's flawed ruling on the illegality of Trident in 2000.
The singers announced the passage of the Nuclear Weapons Ban Treaty by the United Nations Friday the 7th of July. Their performance included new sections marking passage of the Ban Treaty, naming the UK and the other nuclear weapons states as having been invited to take part in the Ban Treaty conference and asked "Where, where, where were you?"
After lunch intrepid paddlers took to Loch Long in a canoe and inflatable kayak to test the marine boundary around the restricted area surrounding the Coulport weapons depot. The kayakers flew the CND flag and had friendly conversations with MOD boat police, including at least one armed with a machine gun.
As the workers left Coulport again for the day another vigil took place.
View all the day's photos here.