Since our newsletter of March last year TP members have continued to campaign actively against the UK's nuclear weapons.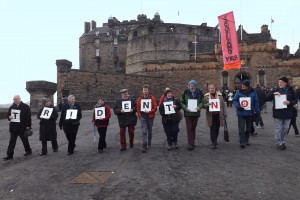 There were two larger scale events, the Scrap Trident weekend in April and the Burghfield Camp and blockade in August/September.
In Scotland an important context for our activity is the September referendum on independence. Since the SNP government has a clear anti-Trident policy Scottish TP members see the vote as the very best chance there is for ridding Scotland of weapons of mass destruction. Such a move would also most likely mean that the UK as a whole would have to abandon nuclear weapons and this would be a huge spur to worldwide disarmament. Of course, all we have at present are promises and all our activity in 2013 was about doing our bit to ensure that those in government in a new Scotland will abide by them.  As part of this we agreed as a campaign to support a Yes vote in the referendum.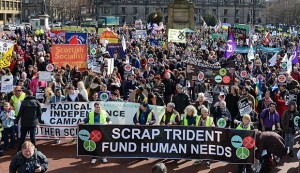 TP was a key member of the Scrap Trident Coalition which organised the Scrap Trident weekend in the spring. Most of the TP effort went into the successful non-violent blockade of Faslane naval base on Monday 15th April at which 47 people were arrested, including lots of young folk and people from all over the UK and beyond.
In September, our simple "SCOTLAND YES, TRIDENT NO" message, formed by members each holding a single large letter of the legend, had its first, and well-received outing at the Edinburgh independence rally. On St Andrews Day (30th November) the same message halted and intrigued large crowds at Edinburgh Castle as it did the people assembling for the Capercaille Celtic Connections concert in January this year.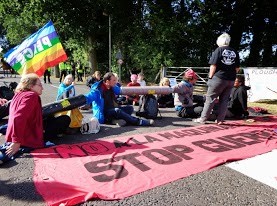 There was also a big focus in 2013 on the Aldermaston/Burghfield warhead manufacturing and assembly sites. TP has played an active part in the Action AWE campaign (actionawe.org). Action AWE (Atomic Weapons Eradication) is a grassroots campaign of non-violent actions dedicated to halting nuclear weapons production at the Atomic Weapons Establishment factories at Aldermaston and Burghfield. The purpose is for groups and individuals to undertake autonomous actions and events from February 2013 onwards to raise awareness of the catastrophic humanitarian consequences of nuclear weapons
In July ten activists blocked the main entrance to the Burghfield site for almost three hours. A two-week TP peace camp was set up near Burghfield in late August, culminating in a blockade of AWE Burghfield by people from all over the UK and from Finland, Belgium and the Netherlands on September 3rd.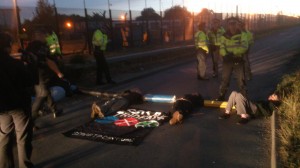 There were 22 arrests on the day. In October Helen Swanston was fined £50 for her part and in January there were two further cases arising from the blockade. Three Faslane Peace Campers had the charges against them dropped after bureaucratic blunders by the court and members of the Muriel Lesters affinity group had a similar result after showing that the "highway" they were alleged to have obstructed was not a public road, though it does remain open for the MOD to charge them with breaches of the relevant bye-laws.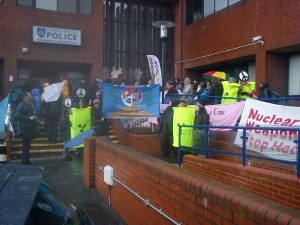 On the 8th February this year TP members were among the 54 people who queued up at Reading police station to individually and formally report a variety of crimes related to Trident. They were treated seriously, given a crime number (the same for all) and expect to hear a response in around 4 to 6 weeks and then will consider the next step.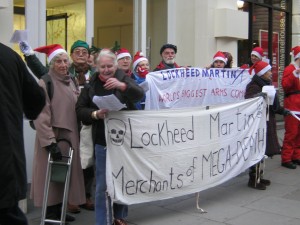 The Muriel Lesters group had already taken action against the Trident nuclear weapon system when they demonstrated at the London HQ of Lockheed Martin in March 2013. The arms company is part of the consortium that runs AWE Aldermaston.
In September Sylvia Boyes and Mary Millington were rather surprised to be merely admonished after being found guilty in the Dumbarton JP court. In February they had cut a fence and painted peace slogans at Faslane naval base and hung on the base perimeter a banner asking "Disarmament – if not now, when?".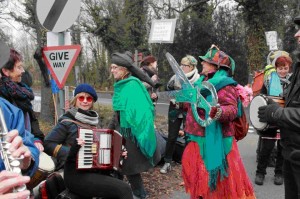 In Plymouth, which hosts the Devonport base where Trident submarines are refitted the local affinity group the Tamarians have been active on the streets of the city in colourful and imaginative ways to remind the people what is happening in their midst. A gathering in Plymouth is planned for the weekend of 10th to 12th May. On the agenda will be workshops on issues such as updates on the city's Trident submarine facility at Devonport and consensus decision-making. There will also be hands-on sessions on banner-making and lock-ons.
Wool against Weapons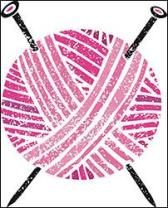 Across the British Isles knitters are busy creating a 7 mile long pink peace scarf to stretch between Aldermaston and Burghfield on Nagasaki day, 9th August 2014.
Knit or crochet your 60x100cm pink piece for peace to say no to Trident, and create a colourful protest that can be recycled into warm blankets.
More information can be found at http://www.woolagainstweapons.co.uk/, and for Scottish knitters, also at http://wawscotland.wordpress.com/
 Your continued interest and support, including financial support, is really appreciated. Cheques payable to "Trident Ploughshares" can be sent to Jean Oliver,43 Knocklea, Biggar, ML12 6E, or you can request a Standing Order form.
If you are interested in becoming a member please email Trident Ploughshares or phone 0845 45 88 366 for more information.