78-year-old anti-nuclear campaigner lies under military truck in Stirling
The vehicle thought to be carrying nuclear warheads was part of a convoy
Police intervened and stopped traffic so it could continue trip to Scotland
By JESSICA DUNCAN FOR MAILONLINE
PUBLISHED: 11:29 GMT, 16 September 2016 | UPDATED: 16:09 GMT, 16 September 2016
The incredible moment a 78-year-old retired teacher managed to hold up four military trucks thought to be carrying nuclear warheads has emerged online.
The vehicles with their large police convoy were spotted passing through Raploch, in Stirling, at around 5pm yesterday after they had left the Atomic Weapons Establishment Burghfield near Reading on Wednesday to make their way up to Coulport, Scotland.
But they were stopped by two activists including Brian Quail, an anti-nukes campaigner who is also believed to be a former teacher, and his younger colleague Alasdair Ibbotson, 21.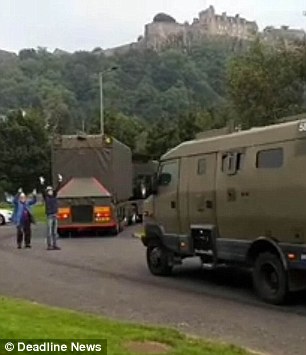 Speaking to the Mail Online Mr Ibbotson, who is a student and Green Party supporter, said: 'I have been campaigning for nuclear weapon disarmament since I was 16. I am passionate about it because at the end of the day it causes the mass murder of millions of people, and is just wrong on every level.
'The money spend on trident could be better spent on our NHS.
'And if a pensioner and a student can stop them, anyone else with actually ill intent could do.
'The MOD need to think about how this and whether they should use the road at all.
'We knew the convoy was passing through the area around that time because we have a national network tracking when they leave the Atomic Weapons Establishment Burghfield and head to Coulport in Scotland.
'We don't know what was on board but we do know they are currently undertaking an upgrade programme and we believe regular parts are being taken between the two bases to be reassembled.'
Mr Quail and Mr Ibbotson were seen working as a duo to stop one of the vehicles.
Mr Ibbotson first jumped out in front of one of the vans with his hands above his head while the OAP quickly lay on the floor wedging himself in front of one of the back wheels.
Police on motorbikes rushed to drag the first protester to the roundabout but it took over two minutes and more than six police personnel to remove Mr Quail from under one of the vans.
The younger man has another attempt to lie down on the road as police move him to the pavement before ten members of the police are required to get them into the back of police vans.
The incident also brought rush hour traffic to a standstill as police swarmed the area and other road users got out of their cars to see what's happening.
It is reported that the convoy was held up for over 20 minutes as police apprehended the two protesters.
The five minute clip, posted by Stirling University Campaign for Nuclear Disarmament (CND), is filmed at a roundabout in the city and begins with the person behind the camera saying that the footage is being filmed 'about a mile from the town centre' over the sound of police sirens.
The police escort and first lorry make it past the protesters but the third vehicle in the convoy is forced to slam on its brakes as the two men dart out in front of it with their hands above their heads.
With the incident causing an ever-increasing tailback of rush-hour traffic, it takes over six officers to eventually remove the man and sit him up on the nearby pavement.
A spokesman for Police Scotland said: 'Two males have been arrested and charged for a breach of the peace after a military convoy was disrupted as it made its way through Stirling on Thursday, September 15.
'Both men, aged 21 and 78, have been reported to the Procurator Fiscal and are expected to appear in court at a later date.
'No other incidents were reported to police in Forth Valley while the convoy moved through the city and surrounding area and we thank the public for their patience and cooperation.'
Mr Quail and Mr Ibbotson's actions received a mixed response on social media.
Scotty Russell said: 'That reminded me of the man that took on the tanks in Tiananmen Square.
'I'm almost moved to tears that there's some stranger who was willing to risk their life to protest against a weapon that could end all our lives.'
But Scott Rafferty commented: 'Does anyone realise they caused more danger today stopping the convoy than the convoy passing through peacefully?'
And Chris Rumbold wrote: 'Apart from the obvious security issues, these complete d***heads stopped all traffic for miles. Hundreds of p***ed-off motorists. No consideration.'
An Ministry of Defence spokesperson said: 'Convoys are operated by specialist groups of skilled military and civilian personnel who are trained to deal with any foreseeable accident or threat.
'Robust arrangements are in place and regularly practised to ensure the safety and security of all movements.'
The spokesman confirmed a military convoy was stopped in Stirling on September 15 because of the actions of two members of the public.
They added: 'After a short interval, the convoy proceeded on its way. The MoD does not discuss the timings, routes or purposes of any military convoys.'
Read more: http://www.dailymail.co.uk/news/article-3792600/If-stop-Terrifying-moment-77-year-old-retired-teacher-student-21-holds-nuclear-weapons-convoy.html#ixzz4KThkiljx