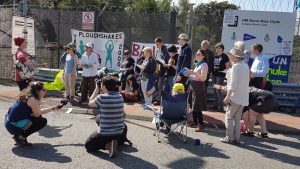 PRESS RELEASE
The Trident Ploughshares Disarmament camp started today with some rousing singing of anti-Trident favorites, including a new song written to celebrate the nuclear ban treaty signed on Friday 7th July.
70 people, including activists from France and Spain, were at the Faslane North Gate to join members of Rise Up Singing affinity group. The nine day camp is close to the Coulport Naval Depot, which is where the warheads for the Trident submarines are stored. Further protests and actions are planned for the coming week.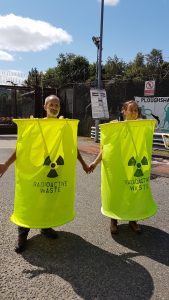 Trident Ploughshares members were present at the United Nations in New York – informing and encouraging states to take part and actively engage with writing this long overdue treaty.
The treaty was ultimately adopted by an overwhelming vote of 122 for and only 1 against, with 1 abstention. Although the UK and other nuclear weapons states did not support this process and weren't present, the treaty will come into force in September.
The Ploughshares activists were both relieved and delighted at this long awaited and urgently needed disarmament measure. They committed themselves to continue their actions to persuade the UK Government to uphold the now very clear international demand to dismantle Trident.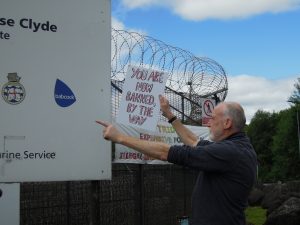 Angie Zelter said " TP actions have always been within the law. It is a crime to threaten mass destruction and this treaty strengthens pressure on the UK government to finally obey International Law"
Contact 07393 482499 and 07876 593016
tridentploughshares.org
media@tridentploughshares.org