This year Trident Ploughshares worked with Yorkshire CND other regional CND groups to co-organise an Anti-Nuclear Day of Action at the DSEI arms fair in London.
Over the course of the day four groups, including activists from Trident Ploughshares, Londoon Region CND, Yorkshire CND & Manchester CND and Faslane Peace Camp, blocked two roadways leading into the Excel Centre, preventing vehicular access for most of the day. .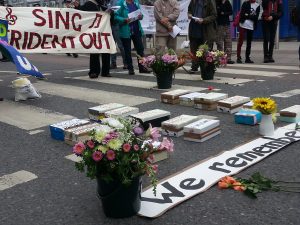 A Peace Garden was also created in the road and a wall of boxes spelling out the companies involved in nuclear weapons who exhibit at the Arms Fair.
A police cutting team eventually appeared and after 2 hours and six arrests they managed to clear the road. They then had to head off to the East Gate where Yorkshire CND & Manchester CND working with
Arms to Renewables
had blocked that road.
Of those arrested nine have been found guilty of obstructing the Highway and given conditional discharges. For details of those trials and sentences see
here
. Additional trials are still to follow for three groups of arrestees on
Wednesday 21 and Friday 23 February
. Jamie Watson, Oli Munro, Margaret Woldu and Gaynor Lloyd are charged with obstruction of the highway. As before, the case will take place at
Stratford Magistrates Court
,
389-397 High St, London E15 4SB, from

9:30am.
For details of how to To support them in court see here.
For a detailed account of the day of action see
here
.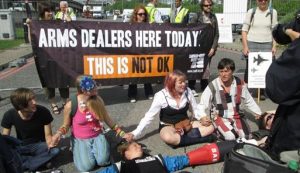 What is DSEI?
Defence & Security Equipment International (DSEI) is the world's largest arms fair, held in London every two years. The fair is heavily sponsored by the UK Government to promote arms sales abroad and each year hosts representatives from countries with a record of grave human rights abuses.
In successive years the fair has been found to be selling weapons that are banned from sale in the UK (such as electro-shock, torture equipment and cluster bombs). In addition to this, the fair's invite list contains some of the world's most authoritarian regimes, many of whom are known to use such weapons against there own populations.
Why an Anti-Nuclear Day?
While the majority of the worlds Government's are coming together to try and bring about a UN Global Ban on Nuclear Weapons, many nuclear states are spending billions upgrading their weapons of mass destruction. Britain is one such country and last years decision on Trident means that spending on nuclear weapons is increasing dramatically and will reach over one third of Britain's total defence budget by 2020.
Trump's ravings about a 'new arms race' have led to record increases in arms company stocks, which may explain the huge sums arms companies invest in political lobbying to stoke conflict and mistrust around the world. For more on how the arms industry's political sponsorship and bribes corrupt our democracy check out Andrew Feinstein's brilliant book 'The Shadow World'. The companies below not only help create the 'dangerous and unpredictable world' that Michael Fallon believes justifies Trident renewal, they lobby against international agreements and profit from nuclear expansion.
Nuclear weapons companies at DSEI
Exhibitors at this years arms fair are the key figures behind multiple nuclear weapons systems.
Lockheed Martin – is the main partner in AWE-ML, the company that manages the UK's Atomic Weapons Establishment (AWE). The AWE is responsible for the maintenance of the warheads for the UK's Trident nuclear arsenal and manages and operates the AWE sites at Aldermaston, Burghfield, and Blacknest.
BAE Systems – the biggest UK arms company and subject of successive corruption and bribery investigations, it will provide the submarines that will replace the current 'Vanguard' subs, that carry the UK's Trident nuclear missile system. It is also the prime contractor for the US Minuteman III Intercontinental Ballistic Missile (ICBM) system and part of the joint venture providing medium-range air-to-surface nuclear missiles for France.
Thales – is part of a joint venture to build the M51 submarine-launched nuclear missiles for the French navy.
Aerojet Rocketdyne – produces solid and liquid propulsion systems for the Minuteman III and Trident II (D5) (UK & US)
General Dynamics – provides a range of engineering, development, and production activities to support to US and UK Trident II Strategic Weapons Systems. It is also involved in the guidance systems of the Trident II (D5) nuclear missiles of the US Navy.
MBDA-Systems – a joint venture between BAE Systems (37.5%), Airbus (37.5%) and Leonardo-Finmeccanica (25%), supplies the medium-range air-to-surface missile system that delivers much of the French nuclear arsenal.
Moog – developed the launch vehicles and strategic missile controls for the Minuteman III (US) and Trident (D5) (US & UK) missiles.
Northrop Grumman – has provided the original launcher system of the Trident II (D5) since the 1980s. In December 2013 it was awarded a US$ 112.9 million (€ 82.5 million) contract for ongoing support to the Trident II (D5) Underwater Launcher System and Advanced Launcher Development Program Support for the US and the UK. Together with partners Babcock & Wilcox, Aecom and CH2M Hill (also exhibiting at DSEI 2017), is a joint venture partner in National Security Technologies (NSTec). Since 2006, NSTec manages the Nevada National Security Site (NNSS), previously known as Nevada Test Site.
Safran Electronics & Defense – part of a joint venture to build M51 submarine-launched nuclear missiles for the French navy, which each deliver multiple warheads. Its subsidiaries Snecma and Sagem provide the propulsion and navigation systems for these missiles.
Rolls Royce – worked on propulsion systems for UK nuclear submarines as well as producing nuclear fuel rods at their plant in Derby.
Raytheon – currently involved in a project to stretch the lifecycle of the guidance systems of the Trident II (D5) nuclear missiles of the US Navy. It is also involved in studies in support of the new W80-4 Long-Range Standoff missile for the US arsenal.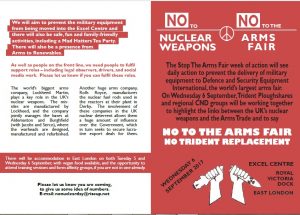 What's the plan?
Following on from a successful strategy at the last DSEI to disrupt the setup of the fair, anti-nuclear groups have committed to stopping vehicles delivering weapons to the Excel Centre on Wednesday the 6th of September. For those who have not taken part in Direct Action before there are a number of vital roles that do not risk arrest, such as legal observation, media work, cooking, fliering and general support. There will be accommodation in London, so do let us know if you're likely to need it. If you're interested please get in touch.
There will be free accomadation overnight Tuesday and Wednesday 5th and 6h of September for those that need it, please bring sleeping bags if you're staying with us.
Like and SHARE the Facebook Event for the No to Nuclear Day at DSEI Here.
Download the No To Nuclear Day of Action Flyer Here.
There will be an Info and NVDA (Nonviolent Direct Action) Training day for Scottish anti-nuclear activists from 11am-5pm .
Sat 12th August 2017
Trident Ploughshares invite you to a day of information on the DESI Arms Fair and Non-Violent Direct Action Training on Saturday 12th August 2017 in Glasgow.
The info session and training will take place at Glasgow Autonomous Space.
11am-12.30pm: Info on the DSEI Arms Fair and Stop The Arms Fair Week Of Action against it.
12.30-1pm snacks and tea (please bring something to share)
1pm-5pm NVDA Training
The call-out is with a view to invite Scottish participants to the No to Nuclear blockade day of the DSEI Arms Fair on Wednesday 6th September. Please come along even if you are unsure but would like to know more. There will be no pressure to sign up and NVDA Trainings are always fun and interesting!
To register for the training or for more information email: leonnaoneill[at]gmail.com
Help spread the word about the Info and Training Day. Like and Share the event on Facebook here.
If you can't make the No Nuclear Day there are also other days you can get involved in during the week of action. More info on each of these days and how to get involved is available from the Stop the Arms Fair website.