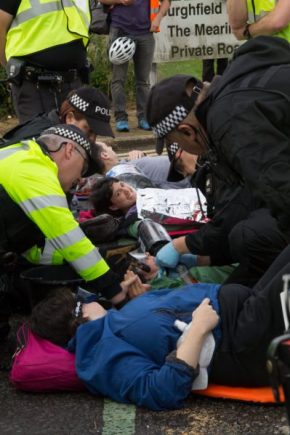 Ten people are being prosecuted following actions on the 'No Faith In Trident' day at Burghfield, 27 June 2016. A Quaker group blockaded the construction gate for over five hours. John Lynes, Ellis Brooks, Sam Donaldson, Gillian Lawrence and Hannah Brock are being tried in Reading Magistrates Court between 14-16 December, charged with Aggravated Trespas.
Angela Kalinzi Ditchfield, Jo Frew, Nicholas Cooper, Alison Parker and Nina Carter-Brown of the Put Down The Sword affinity group blocked the Mearings – one of the entrance roads to the base – and are being prosecuted for Obstruction of the Highway, also in Reading, on 23, 25th and 26th January 2017.
The ten have asked for a joint trial, and we are awaiting news of whether this will be permitted. They are grateful for the work of Bindmans, who are representing them.
More updates will follow here, and follow #NoFaithInTrident on Twitter!'